If the mere mention of attending a black-tie event has you feeling equal parts fear and excitement, you've come to the right place. Attending a formal event can be a lot of fun, and for many of us, a once-in-a-lifetime event. However, there more than a few unspoken rules when it comes to dressing for these sorts of things, and oftentimes dress codes are less than specific. Basically, there's a lot more to wearing evening dresses than meets the eye—you need to consider everything from the dress code of the event to your shoes and outerwear. So, whether you're attending a charity gala, formal work event or making an appearance on the red carpet—here are some tips and tricks on how to wear evening dresses.
How to wear evening dresses for every dress code
The first step in dressing for a formal affair is to consider the nature of the event. Black tie, black tie optional, creative black tie, cocktail, and white tie are all common formal wear "dress codes" that carry with them a unique set of spoken and unspoken rules and expectations. We know that there's nothing quite as frustrating as seconding guessing what "black tie optional," "dressy casual" and "cocktail attire" really means, so we've done a little bit of hard research to uncover the facts. To kick off our How to Wear Evening Dresses guide, we'll quickly delve into the true meaning of each of these standards.
Black Tie
The epitome of a formal event. Formal, floor-length evening gowns are the standard; however, you can get away with a cocktail dress if it's extra snazzy.
Black Tie Optional
Pretty much the murkiest of dress codes, 'black tie optional' can be extremely tricky. Because the dress code for men is more open, women have more freedom as well. While most opt for a formal evening gown no heads would be turned if you choose to wear a cocktail dress or LBD.
Creative Black Tie
As a rule of thumb, think of it as 'black tie optional' but with a smidge of playfulness thrown in. While the other black tie events are generally thought to be more conservative, creative black tie is all about the trends. There can also be themes attached to the event, such as '1920s' Black Tie or 'Christmas Black Tie.'
Cocktail
A relatively easy one to interpret, short but sophisticated dresses are the way to go for cocktail events.
White Tie
The most extravagant of all the dress codes. Think Met Gala and Academy Awards Red Carpet. Nothing short of a floor-length evening gown is acceptable, while elbow-length gloves are optional but highly encouraged.
Dress for your body type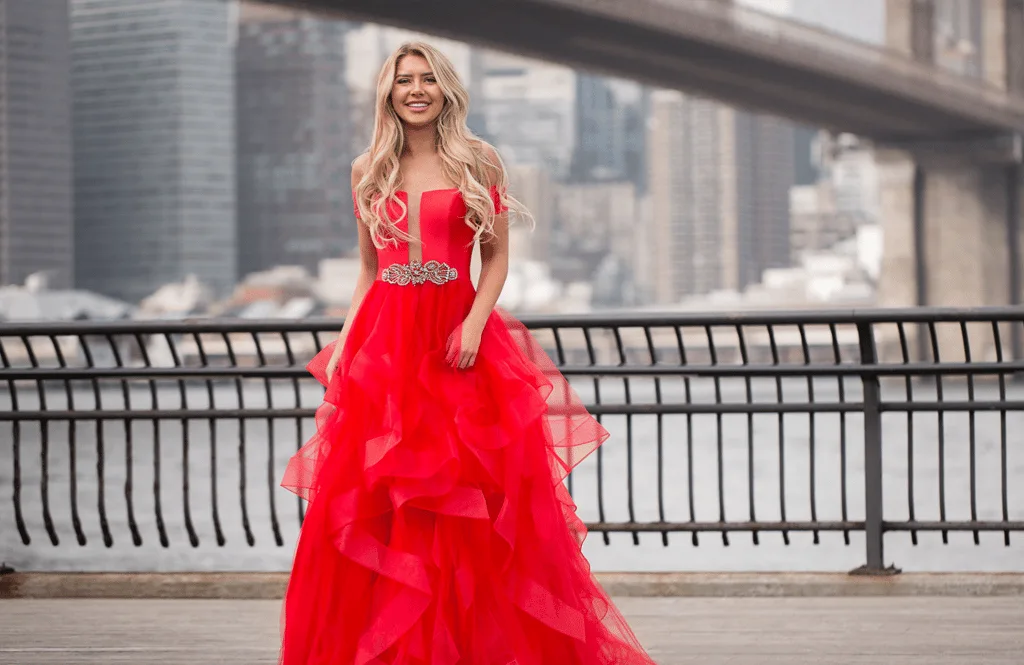 Before purchasing your evening gown it's important to consider your body type. Chances are it'll be a long night, so you want to make sure you'll be comfortable and confident all night long.
If you have a larger bust, you might want to steer clear of backless dresses. Backless bras are unlikely to offer the support you need which will leave you constantly tugging at your dress all night long. Believe you me, no one wants that.
If you're more pear-shaped, look for evening dresses that highlight your upper half. Try a deep V-neck or some sparkling accessories to draw the eye upward, away from your fuller bottom half.
For you petite ladies, the name of the game is creating the illusion of height. Avoid gowns with a long train or full skirt. Too much material will weigh you down and envelop you in a sea of fabric. Opt for a fitted gown with a slight thigh slit to elongate your frame. Those of you with an hourglass shape, the goal is to show off your natural curves. Opt for a gown that hugs your shape and a slight flare at the base.
Consider the shoes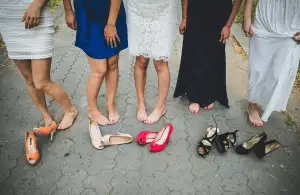 When choosing your evening dress, it's important that you keep in mind the kind of shoes you need to wear. If the dress is too long or too full you'll have to wear really high heels to keep it from dragging on the ground. Before going with the 4-inch heels, make sure you can stand in them for long periods of time. Chances are there will be a lot of standing, waiting, and even dancing at your formal event, so be sure that you're realistic about your shoe choice.
The shoes you wear also need to fit the nature of the event. While you can get away with flats or even sandals at some cocktail events, black and white tie require ladies to wear high heels. Before choosing the dress, make sure the matching shoes are comfortable as well as appropriate.
Don't forget about the accessories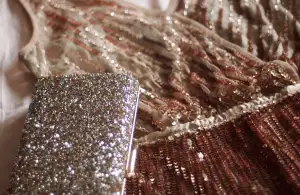 Accessories to wear with evening gowns are often an overlooked aspect of dressing for formal affairs. However, proper accessories, such as jewelry and handbags, can make or break your evening dress look. A good rule of thumb is to go with one piece of bold jewelry and choose the rest of your accessories from there. For example, if you're wearing a low neckline, a bold necklace is all you need to make a statement. In this case, it's best to skip earring altogether or ensure that they're subtle enough not to clash with the necklace.
A handbag is also an important element of your overall look that should be more than just an afterthought. You probably won't have it with you all night, however, your evening bag should complement your gown. Make sure it doesn't clash with your other accessories, and whatever you do don't carry your everyday handbag to a formal event. Even if you plan to leave it in the coatroom, an evening bag is vital to wearing evening dresses.
Wear a good coat over your evening dress
Throwing your casual trench over an evening dress simply won't do, even if you plan to remove it as soon as you walk in the door. When attending a formal event, you want to look polish from head to toe… and that includes your outerwear as well. If you're wearing a floor-length evening gown, avoid coats that stop about mid-thigh. You'll look cut in half and awkwardly bulky from the leg down. Instead, opt for a fur shrug or bolero. The short shape will perfectly accentuate your long evening gown, while still keeping you warm.