As any veteran of the pageant circuit can tell you, there are some serious superstitions in the world of beauty pageants. Ever hear the one about red-soled shoes, or doing a pre-talent performance jig? Crazy theories abound, however, there is none more powerful, or dare I say controversial than winning pageant dresses. What color is worn most often by winners? What style do judges favor? What about designer, embellishments, skin-tone match, color scheme? The list could go on forever.
Of course, it's important to point out that there is no formula for success. No guarantee to win (that would be way too easy). But, we do have statistics. By examining simple patterns and trends when it comes to winning pageant dresses in notable national and international pageants, we can determine what judges look for in an evening gown.
This is not to say that a certain style or color gown wins the title for a contestant, we are simply pointing out that in certain situations, judges tend to respond positively to a particular style, color, or trend.
Winning Pageant Dress Colors
If you've ever found yourself asking "what color pageant dress should I wear" you've come to the right place. We've studied the winners, the losers, and everyone in between to help decide on the best color for pageant dresses.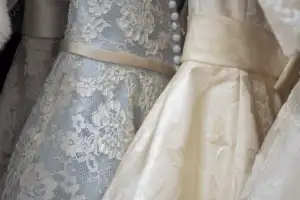 One of the most wide-spread theories of pageantry is that contestants wearing white pageant dresses have a greater chance of winning the crown. As unbelievable as it might sound, this pageant urban legend might carry a bit of truth… statistically anyway. In a short study, we went all the way back to the year 2008 when Michigan's own Kirsten Haglund took home the crown.
What was she wearing during the final evening gown competition?
A sequined white pageant gown, that's what.
In the same year, Stevi Perry, Miss Teen USA 2008, was also crowned in a white gown as was Miss International 2008. The following year (2009), white was worn by winners in 4 major national and international pageants. Sensing a pattern, we took to Google and charted results.
We studied winners from the top 7 national and international pageants including, Miss America, Miss World, Miss Universe, Miss USA, Miss Earth, Miss International, and Miss Teen USA. It's important to note that certain winners changed gowns for the semi-final and final evening wear competitions. In such cases, the gown worn during the final was used in the study.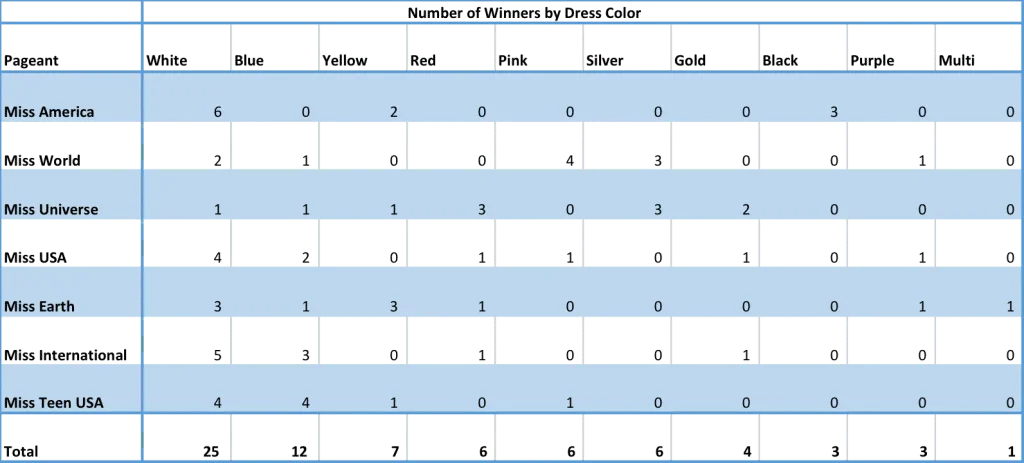 The results found that white was worn a total of 25 times by pageant winners in the last 10 years, far more often than blue pageant dresses (12), yellow (7), red (6), pink (6), silver (6), gold (5), black (3), or multi (1).
The results of our study also indicated that top pageant dress colors vary by pageant type. For example, white followed by yellow and black were the favorite in Miss America, with no deviation. On the other hand, Miss USA winning pageant dress colors were white followed by blue, pink, gold and purple. Miss Universe and Miss World were the only pageants with a greater variety of colors with white in the minority of winning pageant dresses. Deciding if the dress suites the pageant is a super important consideration when choosing your pageant gown. Don't worry, we'll discuss more on the topic a little later on.
With the exception of Miss Earth 2008, winning pageant dresses in the last ten years were almost exclusively one solid color. Sequins and other embellishments play an important role, however, multi-colored gowns have almost never been seen on the pageant queen.
Winning Pageant Dress Styles
Opposite of winning dress color, there isn't a "winner take all" pageant dress style. Over the last ten years, pageant dress styles have changed greatly due to diversifying tastes and fashions. The most important thing to note when looking for winning pageant gown styles is trend. In the last ten years winning gowns have followed central trends that are characterized by the cultural zeitgeist, or spirit of the time.
Winning pageant dresses in the late 2000s were characterized by form-fitting silhouettes and strapless bustlines or spaghetti straps.
In more recent years, winning gowns have featured a slightly less form-fitting silhouette. Miss America 2018, Cara Mund, wore a black gown with a fishtail train. The billowing train was popular among all contestants this year, sharply different than previous year's slim silhouettes.
To find your winning pageant gown style it's important to stay up with the trends in fashion and formal wear. If you want to win you have to look current!
Winning Gowns Based on Popular Pageants
When choosing your pageant gown it's important to take into consideration the history of the pageant in which you're participating. Two of the most popular, Miss America and Miss USA, have very distinct differences when it comes to winning gowns.
Miss America is a non-profit beauty pageant and the nation's leading provider of scholarships for young women, according to the official Miss America website. The pageant began in 1921 and has retained its place in the pageant world as a more conservative, acidemia-oriented pageant. As such, winners of Miss America wear often wear slightly more modest gowns. The color scheme tends to be more subdued than Miss World or Miss International. And of course white topped the chart as the most popular color worn by pageant winners.
Miss USA, is a popular for-profit beauty pageant. A more vibrant answer to the modesty of Miss America's winning gowns, colors are bright, gowns are flashy, and slits are high. Winning gowns are often more heavily embellished, and silhouettes are form-fitting.
Whether you're competing in a famous pageant or a local pageant, it's important to take into consideration the history of the pageant and study the dresses of the winners before you.
How to Choose Winning Pageant Dresses
Based on our study we've put together a step by step guide to choosing winning pageant dresses so you're sure to end the night with a crown
Research the latest trends– Is the dress on trend? Does it capture what's currently 'in' in terms of silhouette, cut, color, and fabric? Trends can change subtly (or in some cases not so subtly) so it's important that you pay attention and update your look as often as possible.
Create a theme– Do you have a theme for yourself? You're more likely to be remembered by judges if they can think "oh, that's the girl who always wears pink" or "her evening gown, matched her bikini, talent outfit, etc."
Consider the pageant system– It's important that your dress always reflect the culture of the pageant. Is it more trendy or modest? Research what winners before you have worn to ensure your dress will fit in
Stick to your budget– There's no standard amount that winners spend on a gown, but you should be aware of your budget before you start to shop. Decide the maximum amount you're willing to spend on the gown before you shop and let the store know.
Keep your age division in mind– Winning teen dresses differ from Miss, or Mrs dresses. Mrs tends to be more conservative, while Miss and Ms can be sexier, depending on the pageant. Make sure your gown fits with what is expected in the age division.
Choose the color– We've discussed color here quite a bit, but one key takeaway is that color does matter. Winners of the major pageants do tend to wear white most often, followed by blue, yellow, and red. It shouldn't be the only consideration, but colors count!
Evaluate the comfort– Despite all of the factors we've carefully studied and scrutinized, comfort is by far the most important aspect of choosing a pageant dress. We don't mean it's supposed to feel like your favorite pair of sweats, but do you feel good in the gown? Do you feel like you want the world to see you in this dress? Are you ready to strut your stuff in front of judges, competitors, friends, and family, and feel confident about what you're wearing? A pageant dress is all about you, so it's important that you like it.
Find Your Winning Pageant Dress
Before you go to the store it's important that you evaluate and decide on your budget and ideal look. Let the shop assistants know so they can best help you find your winning pageant dress and stay within budget criteria to avoid disappointment. Do some research online first to find a few of your favorite designers or styles. Bring the list with you to help narrow your search so you're sure to leave with a winning gown. Here at Terani, we know a thing or two about winning pageant dresses. Our gowns have been worn by countless pageant winners from hometown beauty queens to Miss USA… will you be next?