Amazing Dresses, Ballroom Dance Dresses, Banquet Dresses, beautiful dresses, Beautiful Formal Dresses 2020-2021, Best Celebrity Dresses 2020-2021, Best Dark Blue Prom Dresses 2020-2021, Best Dinner Dresses 2020-2021, Best Discounted prom dresses 2020-2021, Best Dresses For Sweet 15 2020-2021, Best Dresses For Sweet Sixteen Party 2020-2021, Best Fancy Dresses 2019-2020, Best Formal Wedding Dresses 2019-2020, Best Gorgeous and Beautiful Backless Dresses 2019-2020, Best Graduation Dresses 2019-2020, Best Hot Dresses 2017-2018, Best Irish Prom Dresses 2017-2018, Blue Ball Gowns Dresses 2019-2020 Online| Short, Medium, Long, Bridal Party Dresses, Bridesmaid Dressing Gowns 2017-2018, Buy Homecoming 2017-2018, Formal Dance, Glamour Dresses, Graduation, Military Ball, Modest Dresses, Nice Dresses, Party Dresses, Plus Size Bridesmaid, Plus Size Prom Dresses, Prom Ball Gown Dresses, Prom Dresses, Prom Dresses Toronto, Prom Dresses With Sleeves, Prom In Australia, Prom In Europe, Reception, Reception Dresses, Rehearsal Dinner, Sexy Dresses, Stylish, Summer Wedding Dresses, Sweet 15 Dresses, Sweet 16, Sweet 16 Dresses, Sweet 16 Party Dress, Sweet Sixteen Ball Gowns, Teal Bridesmaid, The Best Black And Gold Prom Dresses, Turquoise Bridesmaid Dresses, Wedding Reception Dress, Winter Formals & Balls
A-line gown with crystal encrusted nude illusion bodice, finished with a flowing poly chiffon skirt.
Your sweet 16 is a special occasion for everyone from your friends to your family and your loved ones. Everybody wants you to have the time of your life at your sweet 16 party. Typically, these occasions require you to dress formally and that's where girls are unable to decide whether to wear a short dress for the party or instead opt for elegant sweet 16 ball gowns. The latter adds a certain degree of finesse and elegance to your overall look.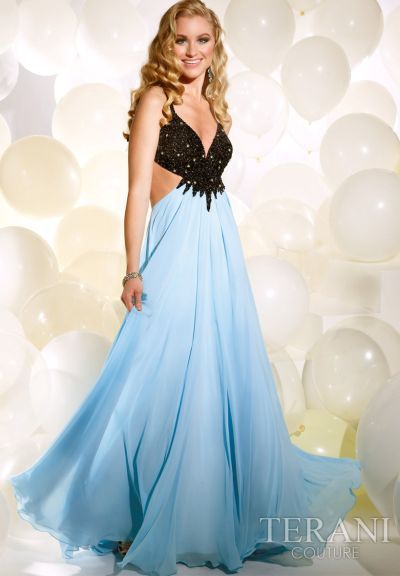 So how do you make the choice and buy the nicest one from a wide range of sweet 16 ball gowns? Here are 5 tips to help you deal with the problem.
Consider the Length of the Gown
Gowns come in a variety of shapes and sizes. What length to wear and what length to leave are the pressing question for girls as they look to choose the perfect sweet 16 ball gowns. Typically the rule of the thumb is that if the occasion that you are going to is formal such as your sweet 16 bash, you need to dress formal. It's your celebration and you will be the center of attention, wear a floor length ball gown to make it a memorable occasion.
Set a Budget and Follow it
You cannot hope to buy a dress without knowing the amount of resources that you are willing to spend for it. There is a wide range of sweet 16 ball gowns available at different prices. Some are more expensive than other while others are more or less affordable for the masses. Before you go to the market or visit websites online to make your ball gown choice, make sure you know the budget that you will be following. This will help you have a detailed no non sense approach about shopping.
Choose a Color that Suits You
Sweet 16 ball gowns are available in color that range from blue to pink to white and gold etc. When choosing a ball gown keeping its color in mind is important because that will define the kind of accessories you buy and the type of makeup you wear. If you have bought your accessories before buying the ball gown, make sure that the color of the ball gown you choose goes well with those accessories.
Put Comfort and Quality over everything else
Yes it is your big day, yes it is the day when all eyes will be on you, but there is no point wearing a dress that you aren't comfortable in. Comfort trumps everything else; the last thing you want is to be annoyed with your dress on your important day. The best way to avoid it is to make sure the sweet 16 ball gowns choice you make is high quality and puts comfort over everything else.
If you live in America— whether its South America, Alberta, Winnipeg, Edmonton, British Columbia, Toronto or Quebec, or Phoenix, Baltimore, Boston, Newark, Houston or Toledo—make the best sweet 16 ball gown choice and leave people in awe.