Purple Dresses
Style:

1611P0115

$

0.00

Category: Amazing Dresses
Terani Couture has the best purple dresses in the world.
Does the color purple attract you like no other? If yes, then you are among those women who gravitate towards magic, royalty and mystery. Well, that includes about every woman out there!
If your prom, homecoming, a wedding or any formal event/party is approaching, you need the best purple dress out there! Depending on the type of event and the dress code, you can choose among the various purple dresses on sale at Dillards, Overstock, Edressme, Lord & Taylor and Missesdressy in Boston, San Bernardino, Virginia Beach, San Jose, Kansas and Toledo.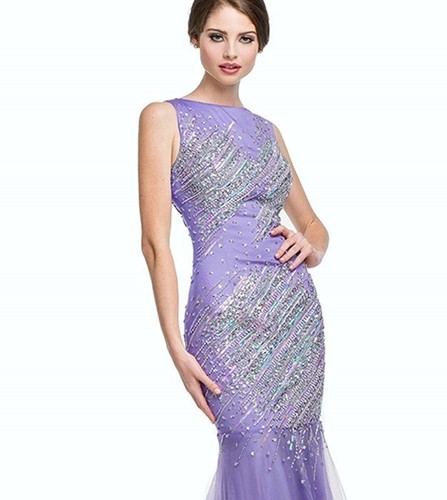 Shopping for a purple dress is no easy feat. With the multitude of styles and necklines to choose from, it goes without saying that ending up with a beautiful purple dress that accentuates your figure, is no less than an achievement!
To make it easier for you, we are listing the necklines that look best with purple dresses by bringing out the beauty of the color against your skin tone. You can choose from the necklines listed below for different shades of purple such as deep fuchsia, grape, dark and light lavender, violet, dark and light purple or plum.
Sheer
Also called as illusion necklines, these necklines have semi sheer lace, net or chiffon. Net and chiffon will look equally great as sheer necklines on a purple dress. If you are preparing for a festive occasion such as a wedding, an embellished sheer neckline will add intrigue, grace and sexiness to your look.
Scoop
The scoop neckline is perfectly suited for long purple dresses made of satin. The satin fabric will add the much needed flow and smoothness to pull off a deep plunging neckline.
Sweetheart
The sweetheart neckline could be worn in purple dresses with or without straps. But our verdict is in favor of strapless purple dresses with a sweetheart neckline that will brighten your skin tone if you have pale skin or complement it if you have a darker skin color. Another great thing about this neckline is that it suits all sizes amazingly; whether you are a size 0 to 8 or a larger size like size 20 to 24, you will look great in a sweetheart neckline!
Queen Ann
The Queen Ann neckline is our favorite by far for embellished and sparkly purple dresses. As evident by its name, the neckline itself is royal. It contains a high rising collar towards the back while sculpting low across the chest. What better neckline than Queen Ann for the royal purple color?
One Shoulder
This neckline consists of a strap across one shoulder, making it the best to show some skin and give a chic look to the sexy purple dress. This neckline works well with flowy fabrics such as chiffon, georgette and satin, as well as lace.
It doesn't matter which corner of the world you live in; whether it is United States, Canada and England or Africa, Middle East and Israel, the color purple is always associated with majesty and royalty. Picking out a purple dress for any formal occasion is as safe as it gets!