Light Blue Homecoming 2017-2018
No products were found matching your selection.
Terani's light blue homecoming dresses will make you look amazing!
So it's that time of the year when you get to recall the past and get invited back to your high school or college to reminisce the old times and honor your alma mater as a graduate. The emotional value and importance of an event is directly related to how much effort you will put in to dress up for it. For adults and young adults, light blue color is often thought of as the most appropriate one for formal dresses, specifically homecoming dresses.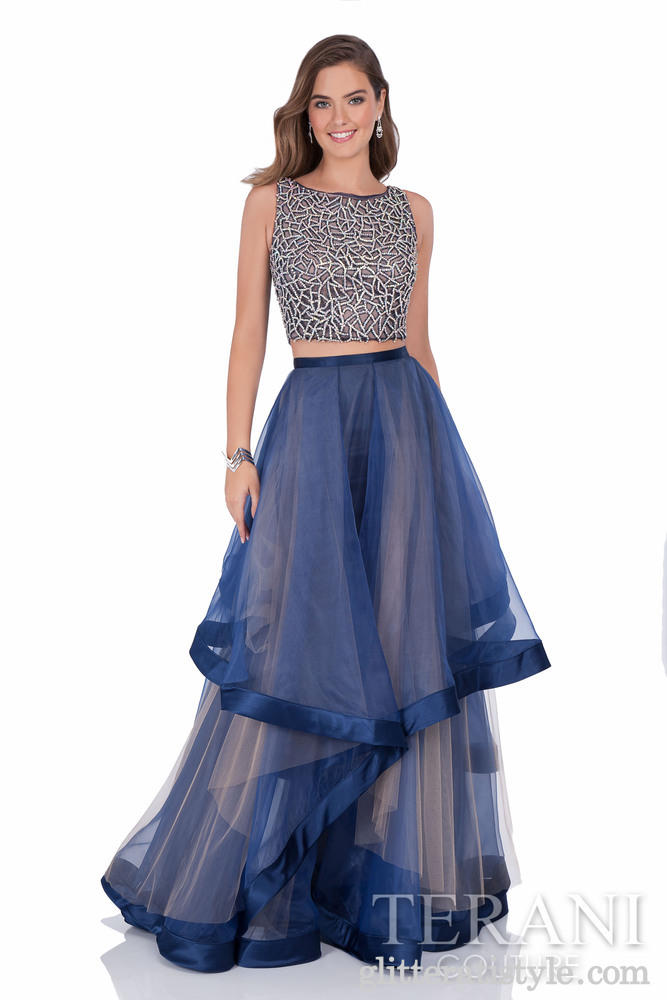 Due to the fact that this color is highly favored and liked, light blue homecoming dresses are quite abundantly available at fashion departmental stores across the country in cities that include Miami, Chicago, New York, Philadelphia, Boston, and Atlanta among many others.
For such an important event, more than the dress itself, how you wear it and accessorize it holds importance in determining the impact of your overall attire. Firstly, the cut and size of your dress has to be decided upon and secondly, the accessorizing options. Read the following two sections for relevant tips regarding your light blue homecoming dresses.
The dress
Cut
Homecoming is an event where you go back to your high school or college; which is why maintaining certain level of modesty in your dress would be better. As far as cut is concerned, a classic option could be the noodle strap tube shape light blue homecoming dress, which is fashionable and sufficiently modest at the same time. Also, you could go for the strapless version of it as well to give it a minimalistic twist. Moreover, if 'volume' is your idea of garnering attention and turning heads at the homecoming evening, you can opt for a flared knee length or full length light blue homecoming dress with a simple and plain boat neck to keep the attention fixated at the cut. Mermaid style homecoming dress can help you reach the right balance between volume and fitting with the lower part being flared enough and the knees up being sufficiently fitted.
Size
Sizes are often ignored which causes you to end up with a beautiful but ill fitted dress that looks abysmal. Make sure that you try quite a few sizes that fall within the spectrum of your standard size. If you think that a size 7 light blue dress is the right one, you should ideally try size 6 and size 8 light blue homecoming dress in the similar design as well to have comparable options in front of you.
Accessories
A light blue homecoming dress warrants maximum visibility and stand out element on its own as it is such a heavenly and beautiful color. As such, you must make sure that accessories uplift the dress and complement it rather than steal the limelight. If you have chosen a strapless light blue homecoming dress, it is good to pair it with pearl white delicate necklace and a similar minimal bracelet. The pearl white will not overpower yet add a touch of elegance to the attire. On the contrary, if it is a voluminous homecoming dress in light blue, you should ideally limit the accessories to the earrings only. Seasons also determine the aptness of accessories. For a summer light blue homecoming dress, you have the flexibility to bare more than you would in a winter homecoming dress. This means that you can accessorize more in your summer light blue outfit.
You can find a variety of dresses along with the coordinating accessories throughout the stores like Saks Fifth Avenue, Missesdressy, Nordstrom and New York Dress among various others.
The tradition varies from region to region; such as those in Africa will celebrate it differently than those in Europe, and Australia will have a different way of honoring the homecoming alumna than those in North America. The guidelines for dressing up nevertheless remain consistent, with little bit cultural variations. Our light blue homecoming dresses will look more than beautiful on you!